Patricia Fronzaglia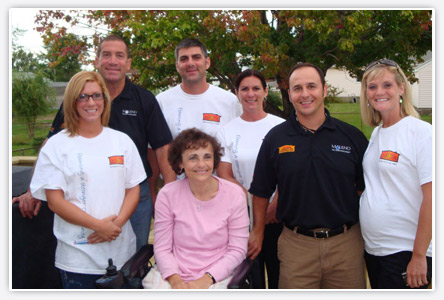 "Pat has seen true hardship and she deserved a helping hand which
we were pleased to provide through our family fund."
Wednesday, September 16, 2009, was the date of Maleno Developments second home-makeover project in Erie as well as his first home-building project underwritten by the Maleno Family-to-Family Fund. Patricia Fronzaglia's Warsaw Avenue home was renovated to suit her mobility needs, including reconstruction of several rooms.

Fronzaglia, 57, was injured in a car accident in November 1999, just five months after her husband, Roy, died. They were married nearly 25 years. Still living in the home she shared with her husband and confined to a wheelchair, she cannot reach her kitchen sink and has no access to her home's bedrooms, forcing her to sleep in her chair. She has three sons, all of whom live outside Pennsylvania.

Along with renovations to the kitchen, bedroom and laundry room, the home was insulated, received new storm doors, fascia and soffit as well as access to a new rear deck.

Many of the same partners who helped Maleno with the "Extreme Makeover" project enlisted to help Fronzaglia. There was no Hollywood fanfare, but the same community spirit helped transform a house into a home for one of our neighbors.
Before
After