Options abound for new home design
Posted on November 30th, 2015 at 3:24 PM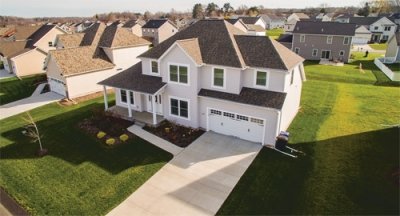 Beyond choosing the right builder, perhaps the most critical phase of building a home is zeroing in on the design of the home you really want.
But this is not a process that most of us are very familiar with, certainly not in a professional sense. So what's the best procedure to go about designing the key features of your home? In many ways, it involves answering several critical questions.
For example, what type of floor plan do you envision? How do you see the function and flow of traffic for your family members as well as guests throughout the home?
A highly experienced builder may have a number of floor plans for you to choose from, or you can tell the builder your ideas, and the builder can help you design a home.
Would you prefer a smaller home with just one level of living spa or a larger home?
Your home, after all, shapes your life. And your life and preferences, as well as the lives and preferences of all your family members, should be the determining factors in how your home is designed.
If you're looking for a multi-story home, do you want a first-floor master bedroom or a second-floor master bedroom?
Are you a young family? Do you have very young children or an infant, or even a baby on the way? In that case, you might want to consider having an upstairs master bedroom along with the children's rooms, so you'll always be near your baby. If you have children who are just slightly older, you might want a downstairs master bedroom for privacy, with the children's rooms upstairs.
Or if you're at a stage in life at which you really don't want to be constantly climbing the stairs, a downstairs master bedroom makes a lot of sense.
At this point, then, the questions become a little more detailed, relating to each of the rooms and how they'll fit together to make the home your own, and one that you've really designed.
For instance, there are additional questions about the master bathroom. Do you prefer a walk-in shower, or perhaps a garden or soaking tub, or a tub with oscillating action water flow? It's your domain, and the master bathroom can be immaculate or simple, or anything in between.
Do you want a two-car garage or a three-car garage? Or perhaps you'd prefer a two-and-a-half-car garage, with the "half" serving as storage space inside the garage.
And it's much the same in the kitchen, superb-quality which can be a serious showpiece that guests will "ooh and aah" over, particularly if the kitchen is open to the great room. If the house is large, do you want a two-story great room? Do you want a traditional family room? What about the view to the outdoors, possibly a spacious, grand and sweeping view?
It's important, also, to consider the basement. Do you want a full basement?
Perhaps you don't want to finish the basement when the house is built (to save expenses, among other perfectly valid reasons). But if you think you might ever want to finish it as a room (or rooms), it's imperative to plan the basement with plenty of head room so the space is ready in the future if you decide to convert the basement to a play room for the kids, or turn it into a party room.
In addition, it's essential to superb quality features and highlights into your home's design. That includes the exterior doors, especially the front door which will always be a warm and welcoming feature to your guests but also including the garage door where form and function meet utility in excellent design that should even include good insulation for enhanced energy efficiency.
"With more than 1,000 different designs, a new garage door can enhance the beauty of your home and instantly upgrade your home's curb appeal," said Dominic Maleno, who heads up Maleno Builders." A garage door can represent as much as 30 percent of your home's front facade, which makes choosing the right door especially important. Let the professionals at Plyler Overhead Door Company transform your garage from functional to fashionable!"
The quality materials even extend to items you can't see, such as the lumber in the home's framing."Carter Lumber is not only our lumber supplier, it's a true partner in constructing each and every home we build," said Maleno. "The incredible value of Carter's advanced capabilities, in areas such as computer-aided design and the precision quality of its products, simply cannot be overestimated. And that really shows in a home's higher sustained resale value over time."