How to Garden Anywhere
Posted on June 11th, 2020 at 10:53 AM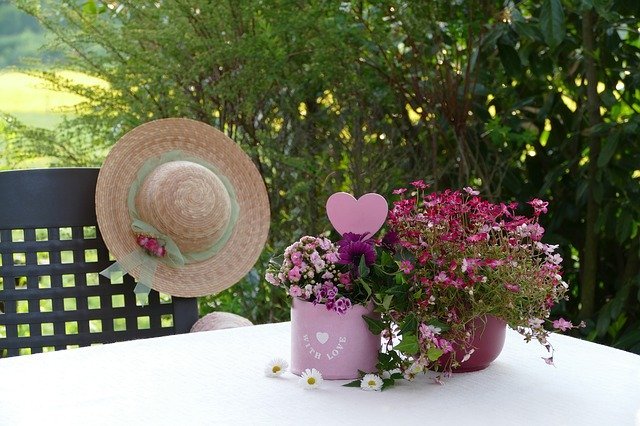 Photo by Gabriele M. Reinhardt
Small Yards, Shady Patches, and Indoor Planters
You don't need a massive plot of land to start growing herbs, flowers, and veggies. All you need is a little creativity, soil, water, and sunlight (and we even have solutions for shady yards as well). To guide your green thumb, Maleno dug up nine tips for starting a garden anywhere.
1. Contain Yourself
Make the most of your space, no matter how small, by opting for a container garden. Not only do they allow you to garden just about anywhere, but they also offer more flexibility.
For instance, if you're utilizing your patio, deck, or balcony, but you need a little more space for a summer gathering, you can move your plants indoors temporarily. Furthermore, if you're limited to strictly an indoor garden, you can shift your plants to different windows to soak up more sunlight throughout the day.
Pro tip: Whether you've started your garden in containers or the dirt, try "overwinter" pepper plants and leafy greens. If they're already in pots, bring them indoors before the first frost. If they're in soil, carefully transplant them to pots and bring them indoors. The following season you'll be able to bring your pepper plants back outside, and you'll have an early harvest!
2. Get Creative with Your Container
You don't need store-bought pots and planters to produce a thriving garden. For a whimsical look, use brightly colored rain boots, painted coffee cans, baskets, or even tree stumps as pots. A child's wagon or wooden wheelbarrow can be made into a charming planter as well.
If you want an herb garden, try planting herbs in a wooden toolbox for easy transport to your kitchen. Simply snip off what you need, and then move it back outside.
Looking for more ideas for how to upcycle what you already have at home? Consider repurposing:
Cans
Cinder Blocks
Jars
Lanterns
Mugs
Tires
Watering Cans
Wooden Bowls
3. Follow the Light
No matter what you use, ensure adequate drainage by cutting or drilling holes as necessary. Not enough drainage can increase the likelihood of bacteria and fungus.
If you're planning on growing veggies such as tomatoes, peppers, cucumbers, or full-sun perennials, you'll need a lot of light. If you're able to garden in your yard, determine which section gets the best direct sunlight.
If you're aiming for an indoor garden, position your plants by windows. Typically, those facing east and west will get the best light. Depending on the size, you may be able to shift the location of the plants throughout the day to maximize their sunlight.
If the only outdoor space you have is a patio or deck, use planter caddies to move large pots and grow bags throughout the day to capture ample sunlight.
4. Be a Mindful Waterer
It's important to check soil moisture every day. By and large, garden soil should always be damp to the touch. However, it's equally essential to know your plants. For instance, succulents require dry soil, whereas most veggies need to be watered at least three times a week. Take extra care of potted vegetables as they'll dry out faster than plants in traditional gardens.
Conversely, be sure all of your pots and planters have proper drainage. If your containers don't have holes, fill the bottoms with one to two inches of gravel and a sprinkle of horticultural charcoal. Finally, use potting soil in your containers, not garden soil.
5. Find the Right Location
What do gardening and buying real estate have in common? It's all about location. Whether you're starting an indoor or outdoor garden, you need to pay close attention to where you're putting your plants. First, you need to figure out what areas of your home and yard get the most hours of sunlight each day.
Second, if you're planting outdoors, be sure to rotate your plants each year to maintain soil fertility. By doing so you'll ensure healthy yields over the long term.
Finally, consider how easy/difficult it will be to water your plants in their location. Gardening already takes a lot of time, so make sure you make it as convenient as possible (e.g., near a spigot, close to a sink, by a rain barrel, etc.).
6. Grow Vertically
If you're short on space, use vertical space to stack plants. You can purchase wall hangers specifically designed for plants, or create your own with repurposed wooden pallets or an old bookshelf.
Hanging flower planters provide color without taking up a lot of room. You can purchase them already-made at a garden center, or make your own. Make sure to water them frequently in hot weather so the blooms don't wither.
7. Create Entryway Focal Points
Line the steps up to your front door with potted plants for a welcoming entrance. Topiaries near the front door add height.
Is your only outdoor space a tiny balcony? Line it with plants in small terracotta pots for a beautiful street-level view.
If you have a window box, fill it with flowers and vines of different sizes. Line the back with taller plants, the middle with bold flowers, and the front with flowing vines to add dimension.
Curb appeal is one of the most essential factors when selling a home. In fact, 99% of REALTORS® believe curb appeal is important to attracting buyers, and 96% recommend improving curb appeal to a seller.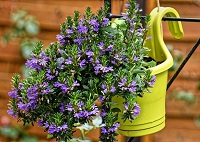 8. Start with Easy-Maintenance Flower Beds
If you're itching to start growing something but don't have a lot of time, some plants lend themselves to absentee gardeners. Peppermint and spearmint are among the easiest plants to grow. Simply purchase a few plants, and they will expand to fill the space.
Lavender is also relatively easy to grow, is drought tolerant, and provides a sweet fragrance that will be released every time someone brushes by. All it needs is full sun and proper drainage. It also repels mosquitoes and flies. Cut and dry lavender flowers to enjoy them year-round.
Wildflowers are another easy-to-grow choice for filling flower beds. Variety seed packets offer assorted blooms that you can cut to make flower arrangements.
Fountain grass grows quickly and adds height, often growing as high as 4-6 feet. It can provide privacy or hide eyesores.
9. Know What Grows in the Shade
Salad greens, chard, and spinach grow well in partial shade and are among the easiest vegetables to grow. In hot weather, greens grow better in the shade because it keeps them from bolting (setting seed), which makes them bitter and inedible.
If you'd like to add color to your garden, Impatiens, Coleus, Lobelia, and Fuchsia plants all grow well in the shade.
Hostas thrive in the shade. They come in beautiful shades and a variety of heights.
Pro tip: If you'd like more sun in a particular area of your yard but a large tree blocks too much light, ask an arborist if it's possible to thin the branches so more sunshine falls on the space.
Let Us Help You Find A Place to Plant Your Garden
No matter if you're looking for a condo with maintenance-free living or a cape cod with a huge lawn, you can garden anywhere. If you're in the market for a new home, Maleno has a team of seasoned realtors who will find the right indoor and outdoor space for you. If you're interested in looking at one of our listings or you need buyer representation, visit our contact page today.
Contributed by Matt Flowers.