7 Best Trails and Parks in Erie, PA
Posted on June 15th, 2023 at 5:52 PM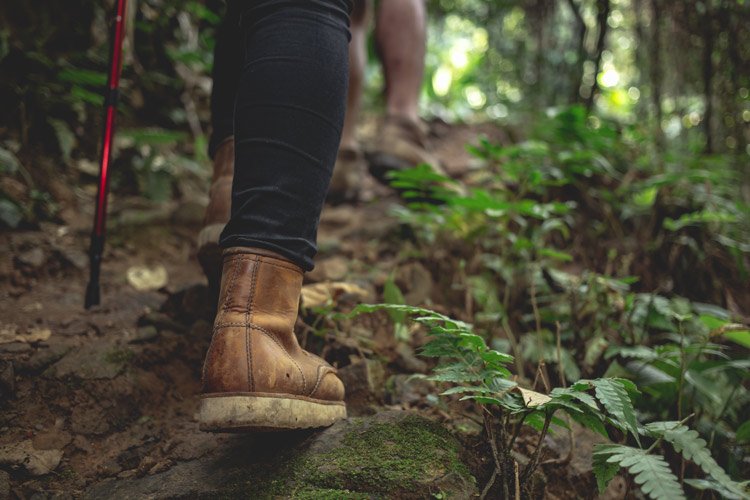 Whether you're an Erie native looking for something to do, a recent transplant, or on vacation for a week, Erie, Pennsylvania, has some breathtaking attractions to visit. To guide you toward some of the best ones, Maleno, a leader in Erie real estate, is here to highlight the seven best parks and trails you should check out.
Photo Credit: Asbury Woods
1. Asbury Woods Greenway Trail (Bonus: Buttermilk Falls)
First on our list, and one of our favorites, is the Asbury Woods Greenway Trail. This lush forest trail is a go-to for many hikers, runners, and mountain bikers. With 3.6 miles to explore, you'll surely see some wildlife along your route, such as deer, snakes, birds, and more.
If you're feeling extra adventurous, you can take the Greenway trail to Walnut Creek and head upriver. There you'll find Buttermilk Falls, which totes a 20-foot picturesque waterfall, several mini waterfalls, and even some small creek whirlpools. It's a perfect place for dogs and children to splash around in on a hot summer day.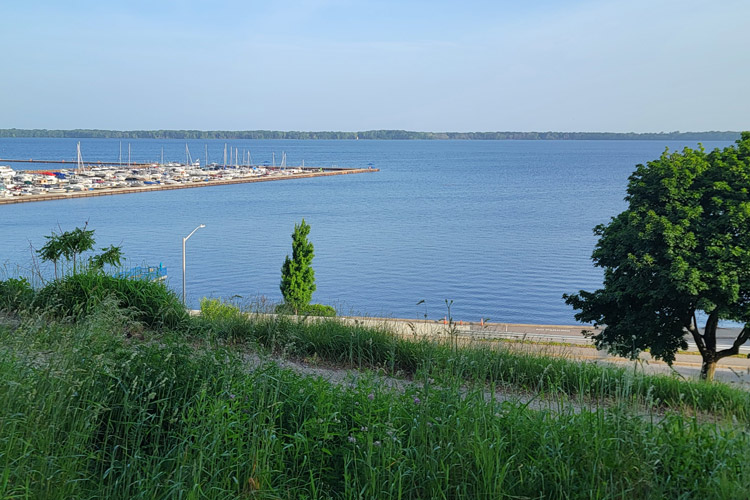 Photo Credit: Matthew Flowers
2. Bayfront Promenade
This 2.1-mile (out and back) paved trail is popular among runners, walkers, and cyclists alike. Along the route, you'll get to experience an unobstructed view of Presque Isle Bay. This trail is certainly one that should be visited in the summer months, especially as Bayview Park starts bustling with activity.
With the trail ending on State Street, you can head down to the Bayfront Connector Trail to continue your adventure even further. Or, you can always walk into downtown Erie for a bite to eat or a good cup of coffee.
You May Also Enjoy: Everything You Should Know About Moving to Erie, Pennsylvania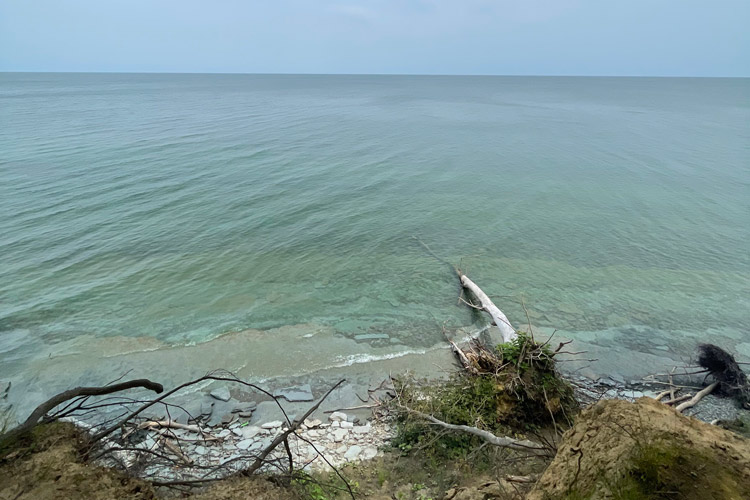 Photo Credit: Matthew Flowers
3. Erie Bluffs State Park
Erie Bluffs State Park lies along the Lake Erie shoreline in western Erie County and consists of 587 acres of Lake Erie shoreline. It is the largest undeveloped stretch of Lake Erie shoreline remaining in Pennsylvania. "The Bluffs," as the park is often referred to, is home to a wide variety of wildlife, from foxes and deer to birds and bats.
The trail most frequently hiked is actually a mix of trails, including Black Oak Savanna, Whitetail, Duck Run, Timber, and Transition Trail, equating to a healthy 5.3-mile loop. If you want to keep it going, you can easily squeeze out an additional 1.5 miles of secondary trails. With over one mile of 90-foot bluffs overlooking Lake Erie, the views are spectacular.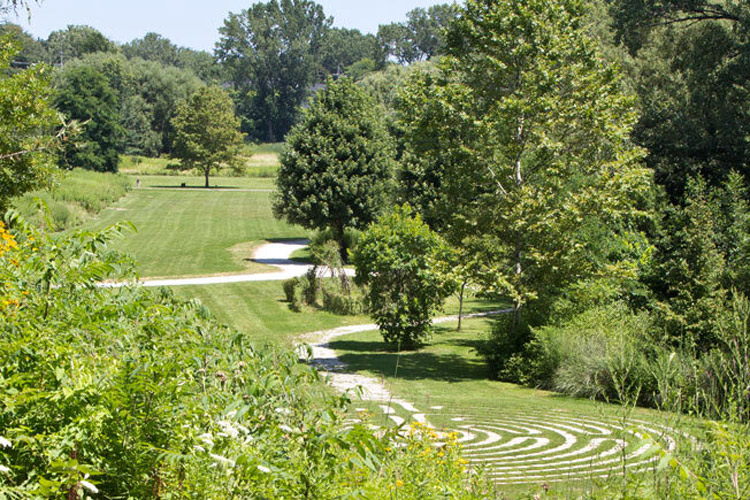 Photo Credit: Lake Erie Arboretum at Frontier Park
4. Frontier Park
Frontier Park packs a myriad of features into its modest .9-mile loop. The first feature of the park, which has become the location of many engagement and wedding photos, is Cascade Creek, which meanders under two scenic bridges in the heart of the park. If you have time after your loop, you can also:
Walk the Labyrinth At Leaf
Slide down the Griff Slides (Please note: They're very fast)
Stroll through the Willow Art
Play on the playground
If you happen to be in Frontier Park on a weekend, consider shopping at the LEAF Open Market, which runs biweekly on Saturdays from 10 am to 2 pm on the 8th Street side of the park.
You can also enjoy a ride along the Bayfront Bikeway if you're on a bike. It will give you another nine miles to ride (one way) and a front-row seat of the bay. At the end, you'll have an opportunity to look over Wintergreen Gorge Trail.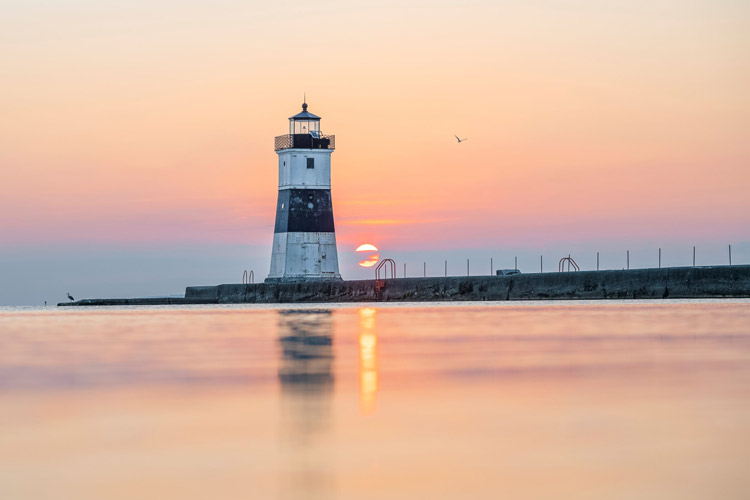 Photo Credit: VisitErie
5. Presque Isle State Park
For many people, Presque Isle State Park is the crown jewel of Erie, Pennsylvania. The main trail on Presque Isle is The Karl Boyes Multi-Purpose National Recreation Trail. Fun fact: Presque Isle State Park is the 4th most visited public park in the United States.
When walking or riding this ADA-accessible 13.4-mile loop, you'll pass through a scenic tapestry of natural landscapes along the bay and lake shorelines. Because it's paved and well maintained, the Karl Boyes Multi-Purpose National Recreation Trail is also bicycle, rollerblade, and longboard friendly. There are also additional trails to explore that extend off of the Karl Boyes Trail, including:
Gull Point Trail
The Lighthouse Trail
Dead Pond Trail
North Pier Trail
Graveyard Pond Trail & Misery Bay Paddle Route
Should you decide to veer off the trail and explore the 3,200-acre park, you can experience one or more of its 11 sandy beaches, visit Perry Monument, take a tour of the Presque Isle Lighthouse, or rent a kayak to float through the lagoons. Along the trail, you can access parking, restrooms, and picnic tables.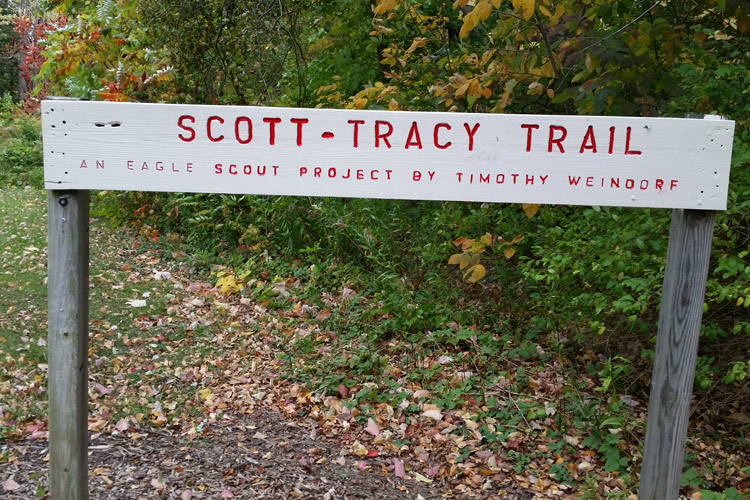 Photo Credit: Greater Erie Regional Trails
6. Scott Park
Apps like AllTrails (an excellent hiking app) show Scott Park as having a modest 1.7-mile loop to hike. However, there are an array of well-maintained secondary trails that can easily add another 1.5 miles into the mix (if not more).
If you want a better look at Presque Isle Bay and don't mind a decline, you can take the Scott Trail or Bay Trail right down the cliffside to the foot of Sommerheim Drive.
If you have children, there is also a playground and restrooms at the start of this trail, making it kid-friendly. There is also a nice picnic pavilion if you want to bring some grub for after the hike.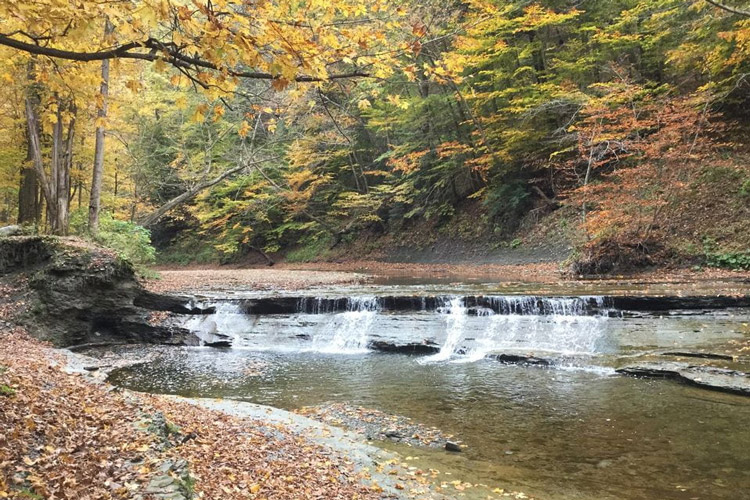 Photo Credit: Penn State Behrend
7. Wintergreen Gorge Trail
Wintergreen Gorge Trail is a breathtaking 2.3-mile out-and-back run that brings you into the heart of the canyon situated along Fourmile Creek and partially on Penn State Behrend's campus. Depending on how adventurous you want to be, you can extend this hike by starting at different points in the Gorge and even walking in the water in the summer.
With vast swaths of forest, a meandering creek with waterholes, waterfalls, and stunning rock formations, Wintergreen Gorge Trail has become a go-to destination for people who love hiking and snowshoeing.
Live, Play, Vacation
At Maleno, we love being headquartered in Erie. Its small-city size combined with its big-city vibe, make it the perfect place to find a full-time or vacation home. From east to west, Erie County is brimming with gorgeous neighborhoods, swaths of sandy beaches, and dozens of public parks and trails. If you're interested in making Erie your next home, reach out to an agent today.