Determine Your Needs – 4 Considerations Before You Remodel Your Home
Posted on June 14th, 2022 at 11:00 AM

No matter how much you love your home, there are probably a few areas you'd like to improve. Certain spaces might feel cramped, outdated, or uninspired. If so, it's time to consider a remodel.
From cosmetic improvements to correcting structural issues, there are plenty of reasons why you might choose to update your home. But, before you begin, it's essential to consider your specific needs, budget, and goals. Moreover, you'll want to work with a team of trusted professionals like those at Maleno to ensure you're properly planning for your current and future needs.
1. Know Your Budget
When it comes to remodeling your home, your budget will ultimately determine the scope of your project. For context, the average spend on a renovation in Erie, Pennsylvania, is between $19,800 and $73,200, but again, the size and complexity of the remodel will inevitably dictate its price.
For instance, a kitchen remodel costs $25,000 - $50,000 on average, whereas a bathroom renovation runs around $10,000. Further, an entire home remodel costs $100,000 to $200,000.
Of course, many factors about your home, including the current condition, available space, and even its physical location, can impact the cost of remodeling. Therefore, you'll want to connect with a professional to assess your space before finalizing any decisions.
Generally, cosmetic improvements will be less expensive than structural or lifestyle modifications. Replacing your bathroom flooring and adding a fresh coat of paint will certainly be cheaper than installing a new shower and tearing out a built-in shelving unit. That said, you'll want to clearly define your goals before you finalize any design plans.
2. Get Clear on Your Goals
A quality remodel can add up, but the peace of feeling content with your home is priceless. Therefore, you'll want to be sure you know exactly what you want from your renovation before you begin.
On average, one in four Americans outgrow their homes within the first two years of moving. If you're one of them, you're probably thinking about adding more space. An addition is an excellent option for those with a larger budget, especially if you'd like to seriously up the resale value of your home. In fact, all else being equal, additional space—particularly a bedroom—can increase the value of your home by roughly 6.2 percent.
Of course, not everyone has the available land space to build onto their homes. However, an open floor plan can have a similar effect on future sale price. Knocking down a few interior walls and opening up your rooms can help you realize a year-over-year appreciation rate of 7.4 percent.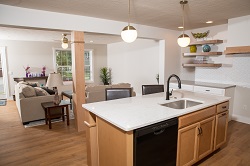 *Pro-Tip: Before you plan your perfect open-plan remodel, be sure to speak with a professional. Some interior walls are load-bearing and therefore cannot be removed without compromising the structural integrity of your home. You'll want to know exactly what's possible before you set your mind on your design concept.
Keep in mind that adding space allows you to include additional features, such as more storage, specialized spaces—laundry room, cleaning cupboard, mudroom—and more natural lighting. Know that any special features will come with an increased price tag, so be sure you prioritize your needs and let your wants follow.
Alternatively, you might be more interested in cosmetic updates such as new cabinetry, flooring, paint, and more. Though smaller in scope than a whole gut job, a fresh aesthetic can help you feel more at home in your space.
3. Align with Your Aesthetic
A remodel is the perfect opportunity to make your home feel like you. It gives you the chance to explore your style, add personalized touches, and feel more aesthetically aligned with your space.
Though you might be remodeling with a specific room in mind, it's important to remember that changing one space could make another feel inconsistent with the rest of your home. For example, if part of your kitchen remodel is knocking down a wall leading to the dining room, you'll likely need to change your dining room interiors to match the kitchen's aesthetic.
Don't forget that the exterior of your home might also need your attention. Fresh siding, new windows, or modernized stone skirting can drastically improve your home's exterior aesthetic. Moreover, the investment in an updated exterior can pay off when it comes time to sell. Homes with a high curb appeal sell for about seven percent more than homes with uninviting exteriors.
4. Fit Your Lifestyle
When it comes time to remodel, you'll want to consider what elements best compliment your lifestyle. From custom builds to eco-friendly features, you'll be able to personalize your remodel to best fit your current and future needs.
Custom-made game rooms, theaters, or wine cellars are perfect for people who frequently host guests in their homes. A library or home study is ideal for anyone working remotely or looking for a quiet space to relax. If you're family-oriented, you might want to think about a first-floor nursery or inlaw suite.
Eco-friendly and smart home features are becoming more common. Simple change-ups like energy-efficient appliances, improved insulation, and low-emittance windows can help you reduce your carbon footprint.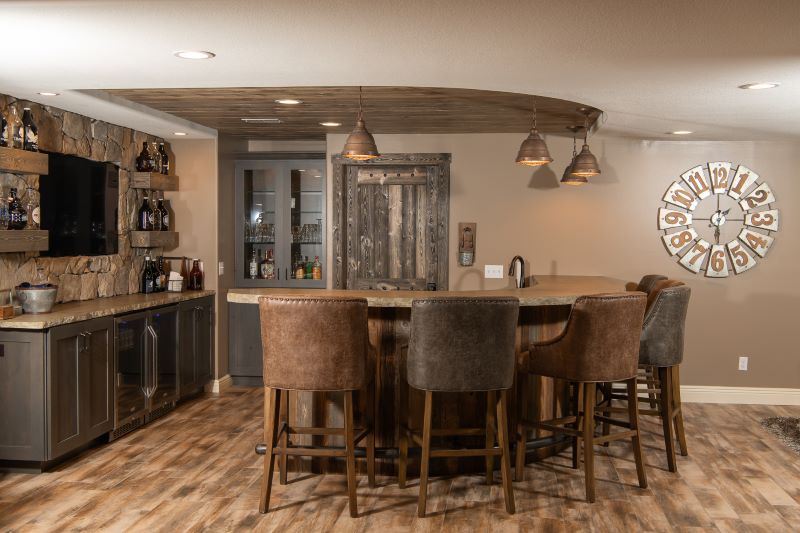 Let the Experts Help You Decide
Remodeling a home is a significant undertaking, but the time you'll spend feeling content in your space makes it a worthwhile venture. What's more, some intentional planning and improvements can help bolster your future resale value. To put it simply, a quality remodel is a wise investment.
If you're ready to hear an expert's opinion on what's possible for your home, contact the experienced remodeling team at Maleno today.
Contributed by Matt Flowers
@ethoscopywriting