A Letter to Maleno Customers
Posted on March 17th, 2020 at 8:45 AM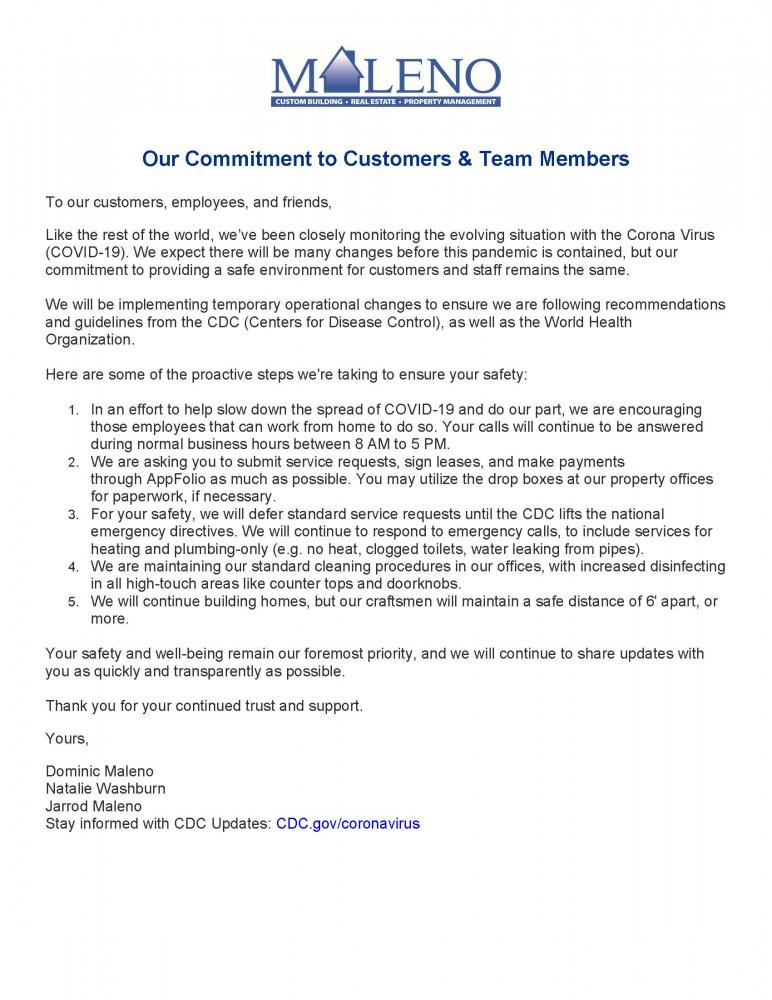 Our Commitment To Customers & Team Members
To our customers, employees, and friends,
Like the rest of the world, we've been closely monitoring the evolving situation with the Corona Virus (COVID-19). We expect there will be many changes before this pandemic is contained, but our commitment to providing a safe environment for customers and staff remains the same.
We will be implementing temporary operational changes to ensure we are following recommendations and guidelines from the CDC (Centers for Disease Control), as well as the World Health Organization.
Here are some of the proactive steps we're taking to ensure your safety:
In an effort to help slow down the spread of COVID-19 and do our part, we are encouraging those employees that can work from home to do so. Your calls will continue to be answered during normal business hours between 8 AM to 5 PM.

We are asking you to submit service requests, sign leases, and make payments through AppFolio as much as possible. You may utilize the drop boxes at our property offices for paperwork, if necessary.

For your safety, we will defer standard service requests until the CDC lifts the national emergency directives. We will continue to respond to emergency calls, to include services for heating and plumbing-only (e.g. no heat, clogged toilets, water leaking from pipes).

We are maintaining our standard cleaning procedures in our offices, with increased disinfecting in all high-touch areas like counter tops and doorknobs.

We will continue building homes, but our craftsmen will maintain a safe distance of 6' apart, or more.
Your safety and well-being remain our foremost priority, and we will continue to share updates with you as quickly and transparently as possible.
Thank you for your continued trust and support.