Ironically, The Key to Higher Home Resale Value Is The Door
Posted on July 26th, 2018 at 9:41 AM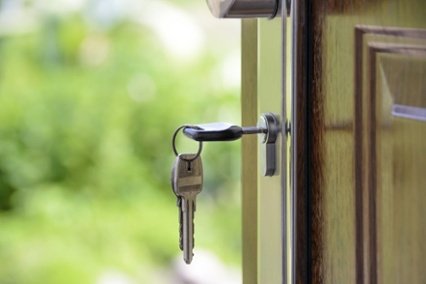 Whether you're in the market for a new home or your next investment property, it's important to
consider which upgrades you're going to invest in. This is because not all "improvements" actually
increase the value of the house.
For instance, researchers at the National Association of REALTORS® Research Department found that a
new pool would only recover 50% of its cost. On the flipside, Remodeling Magazine found that
nationally, the best home improvement based on cost recuperated is actually a garage door
replacement. Further, the third best improvement is a steel entry door replacement.
Choosing Your Contractor
Before choosing a company to install your new garage or entry door, be sure to do your research.
"Homeowners should consider a company's resources, expertise, compliance, competence, insurance and
integrity," recommends Paige Plyler, Vice President of Sales and Marketing at Plyler Entry Systems.

While HGTV can make repairs and additions look like a breeze, installing a garage door or any kind
of entry system is best left to the professionals. "Garage door springs, cables, brackets, and
other hardware attached to the springs, are under very high tension and—if handled improperly—can
cause serious injury, warns Plyler. "The torsion springs (the springs above the door) require
special tools and should only be adjusted by a professional."

Plyler also notes that if you have an old garage door opener (predating January 1, 1993), you're
required by federal law to have advanced safety features in order to comply with the latest U.L.
325 standards. For this reason, be sure the company you choose is familiar with these compliance
issues.
Garage vs. Carport
First and foremost, a garage is going to offer far better protection from the elements than a
carport. If you live in a Middle Atlantic or New England state, this kind of defense from the
blistering cold weather is critical.

Having a garage also provides a great storage area for tools, lawn equipment, and recreational
items. Conversely, you can also turn your garage into an outdoor living space. In this case, you'll
want to invest in an insulated garage door. "Even if your garage is not heated, an insulated door
is more durable than a non-insulated door," says Plyler. "If homeowners are interested in
regulating the temperature in their
garage, there are even different levels of insulation and materials to choose from."

When you're shopping for your garage door, be sure to ask about the R-Value, or the thermal
resistance of the door. The higher the value, the better the insulation. If you properly insulate the
"envelope" or "shell" of your house, Energy Star found that you may be able to save up to $200 a
year in heating and cooling costs.

However, it should be noted that Energy Star sometimes cautions against an insulated garage door if
you store a great deal of paints, chemicals, or gasoline-powered yard tools in your garage. In this
case, it could be better to actually insulate the wall between the house and garage to seal out any
fumes.
Curb Appeal
Clopay found that a garage door can represent as much as 30% of your home's front façade. This
means your garage can have a massive impact on your curb appeal. If you're planning on selling your
home, consult with a trusted Maleno Real Estate Realtor about which improvements will provide you
with the best return on investment (ROI).

"Garage door replacement ranks high [on home investment lists] because it is relatively
inexpensive, yet it has a significant impact on a home's curb appeal and perceived value," says
Plyler.
Outdoor Living Space
Utilizing a garage for a work station, "man cave," or recreational room is not necessarily new.
However, Lifestyle Screens are a great way to convert your garage into an dynamic, pest-free,
outdoor living space. Moreover, these screens work in conjunction with your existing garage door
and are self-storing.
The Front Door
While the front door of your home accounts for less of the façade than a garage door, its impact is
still significant. Not only does a new steel front door improve energy efficiency and recuperate
91.3% of the job cost, but it also ranks a 10 out of 10 on the NAR's Joy Score, meaning homeowners
had a "greater desire to be home since completing the project" and have "an increased sense of
enjoyment when they are at home."
Maleno Homes
Whether you're interested in finding an existing home or building a home with a stunning entry
system, reach out to a Maleno Real Estate Realtor. We'll help you find the right property for you.
Furthermore, in all of our construction, we use the highest-quality vendors and products for garage
and front doors.
Click here to contact us or call 814-833-6516.